This is where Intense Off-Road all started.
We have been playing with trucks most of our lives, seeing just how high they could jump, and just how far it could go in the mud, how high we could go up hills and mountains and seeing just how far we could push their limits. After fixing our trucks as many times that we did and building new ones after the old ones became irreparable, we acquired the experience to build them professionally, Hence the beginning of Intense Off-Road. We started using the demo trucks in the pilot car services and eventually found it to become a primary service. Although we do still build race trucks, we no longer advertise this service. Mostly we just do it for our own enjoyment.
This one here was one of our most enjoyable to build, It came up in conversation with some of the locals that it was impossible to put our Bronco II on 44" tires without major modification, meaning we would have to use a different chassis. So the project bagan. We had given it all Skyjacker could provide, 9" suspention lift, 3" body lift. well it was a good start, but not enough.
All that was lacking was a set of old jeep leaf springs for the rear (hard to find because of the unusualy long springs that the Bronco II's are factory equiped with), a set of radius arms and 6" over stock coils for an F-150, Bushwacker cutout fender flares and the removal of the factory front bumper (witch was replaced by a square tube bumper that we made with some leftover steel around the shop) and a custom made 15 x 15 set of wheels (sponsered by our local 6-Robblees). A few finninshing tuoches and some fine tuning on the suspention our Project Bronco II was complete.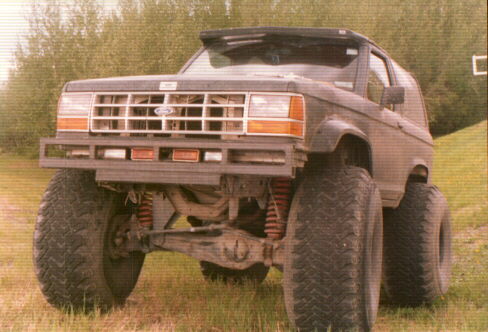 It has the class and looks to be a pavement princess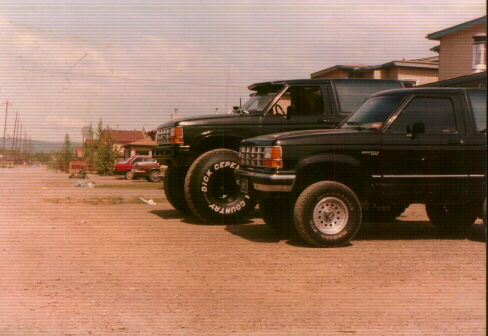 Accesories include: Pioneer sound system w/ 200 watt amp and 4 12" boomers, Audiovox cell w/fax and answering machine, Cobra cb w/ pa, Cobra laser/radar detector, Lund visor, 12 driving lights (2 ralley fog, 2 ralley driving in front bunper, 4 ralley driving in rear bumper for back up, 4 aircfart landing lights on detachable roof mounted light bar) (would not fit in my garage with light bar on).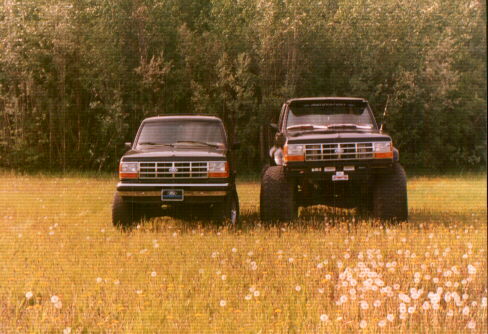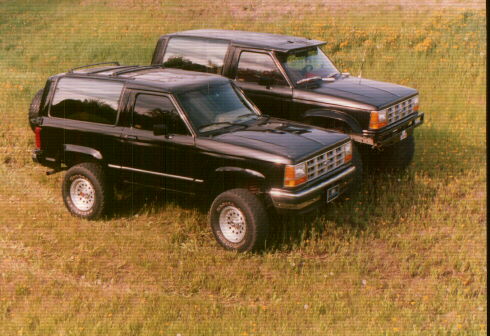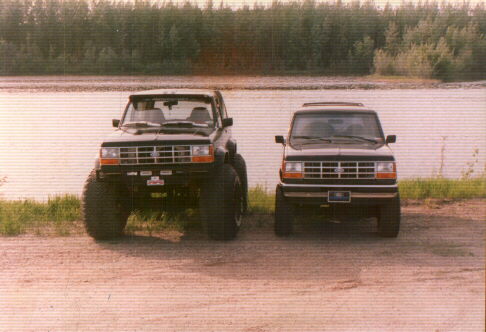 Notice the factory running gear?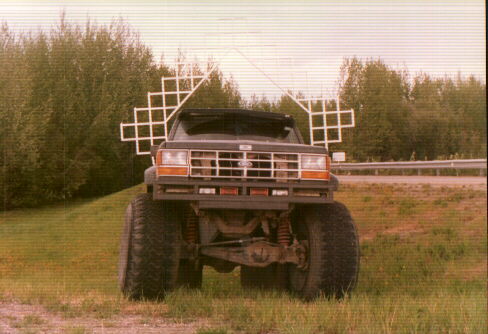 Ant it has the ability to be a contender.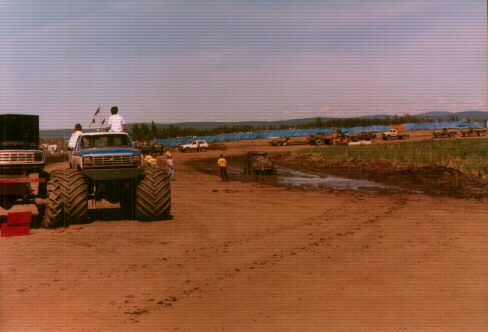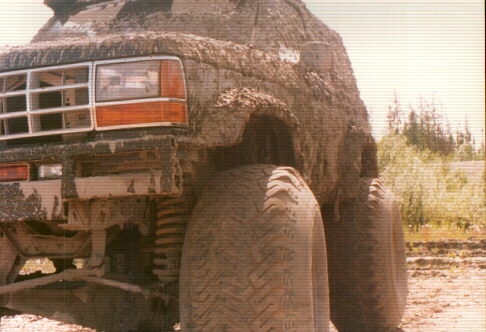 The Bronco II only weighs about 3200 lbs. So the lift does sag alot when it is hauling all that mud, However because it is so light it does float with the top of the lettering showing on the tires.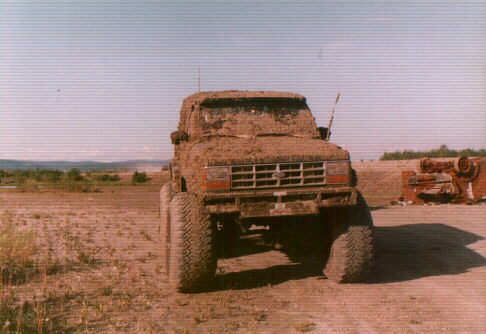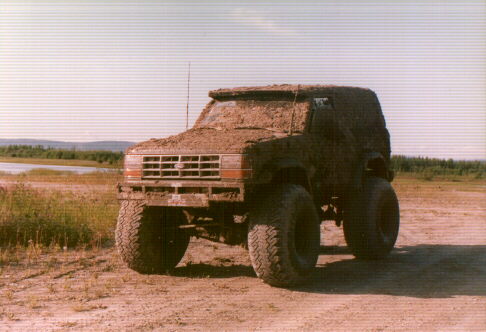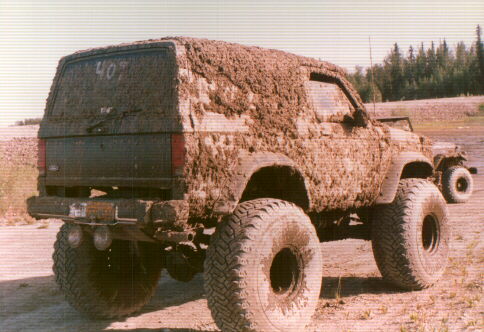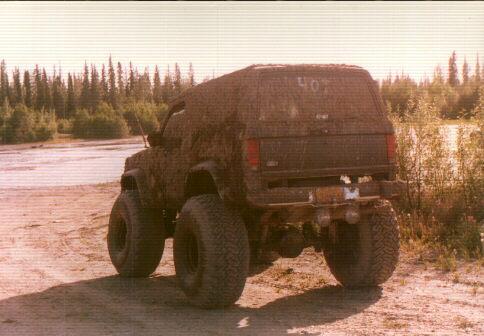 Have you ever noticed that all this mud is easier to put on than it is to get off?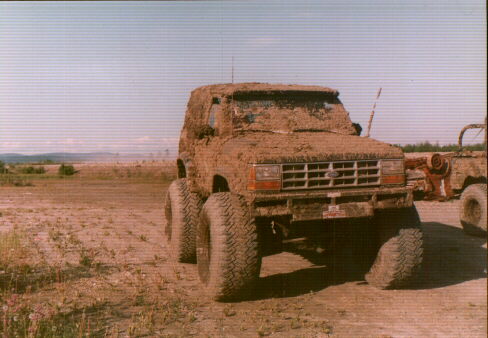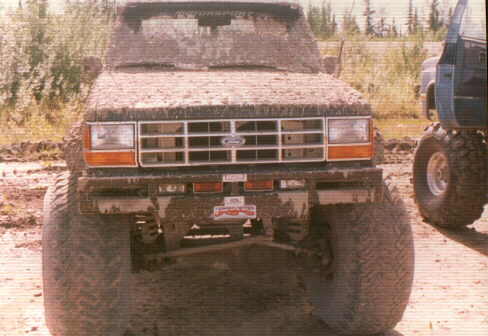 And man o man can it fly!!!!!! This was the best landing truck we ever built, It has a very soft landing, not the impact that you would expect.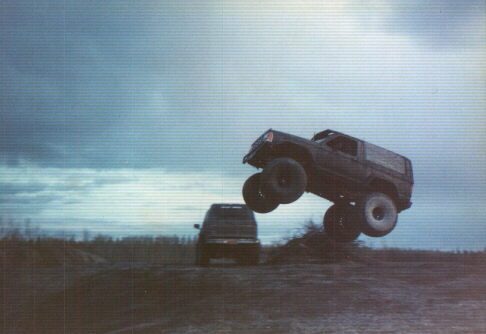 Do you think it can keep up? May not be as big as these but dynamite comes in small packages too.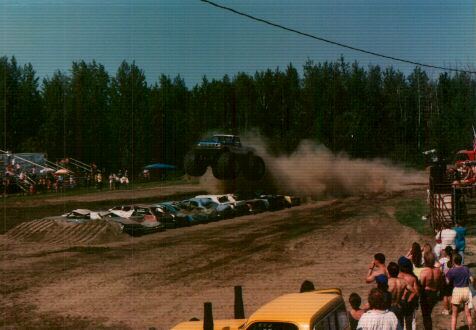 Check back later for more. Yet to be seen is (Addicted To Mud) and (My Work Truck) see ya later.
Here are some shots of Addicted To Mud.
---
e-mail: knee-deep@knee-deepsvc.com
---
HOME